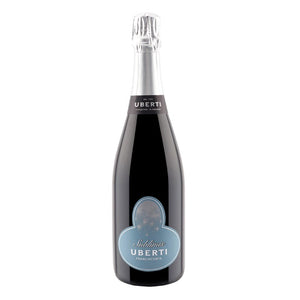 The Franciacorta Riserva Pas Dosé Sublimis di Uberti was born in vineyards located on the hills of Franciacorta, in the locality of Calino, in the Brescia municipality of Cazzago San Martino.
It is produced with 100% Chardonnay grapes, rigorously harvested and selected by hand. After fermentation in oak vats, the second fermentation takes place by refermentation in the bottle, according to the Classic Method with aging for at least 60 months on its own yeasts.
It is characterized by a straw yellow color, with green hues, an abundant and creamy froth, and a subtle and persistent perlage. The nose opens with an intense and elegant bouquet, with hints of exotic fruit and yellow flowers, enriched by delicate notes of dried fruit and toasting. On the palate it is soft and round, with excellent persistence.
Perfect to accompany all fish dishes, especially fried fish and grilled fish, this sparkling wine is ideal in combination with cheeses, both fresh and aged.