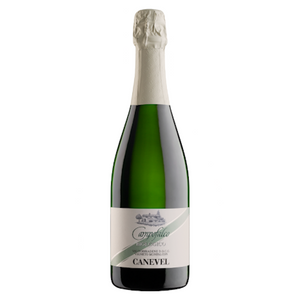 Precious cru from the organic Monfalcon vineyard made possible by: altitude of 300-400 m, extreme hilly slope and perfect exposure.
Sparkling wine with explosive floral strength, elegant and naturally soft thanks to the use of a long charmat method.
Vines
90% Glera, 10% Verdiso.
Organoleptic notes
Appearance: bright straw yellow with fine perlage
and persistent.
Nose: intense aromas of white flowers and fruit such as green apple.
Palate: the foam is lively and pleasant and the acidity refreshing. Excellent persistent finish.
Pairings
Excellent aperitif or sparkling wine for the whole meal. It goes well with fish first courses, such as risotto alla marinara, or second courses as grilled fish.
Alcohol content
11% VOL.