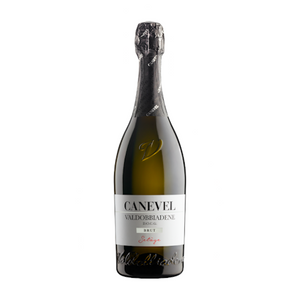 Reference point of Canevel production, it is a dry and silky sparkling wine, with delicate aromas of Golden apple and spices. Canevel sparkling wines are characterized by fine and elegant bubbles like silk (Setàge).
Vines
Glera, Chardonnay.
Organoleptic Notes
Appearance: pale straw yellow, bright and lively with abundant foam and fine and elegant perlage.
Nose: Golden apple and spicy aromas.
Palate: dry, soft and full of character.
Pairings
Excellent as an aperitif. Pleasant with light and fresh summer appetizers, vegetable and fish crudités and salads.